Co-op Connections Card
Discounts from over 140 local and national businesses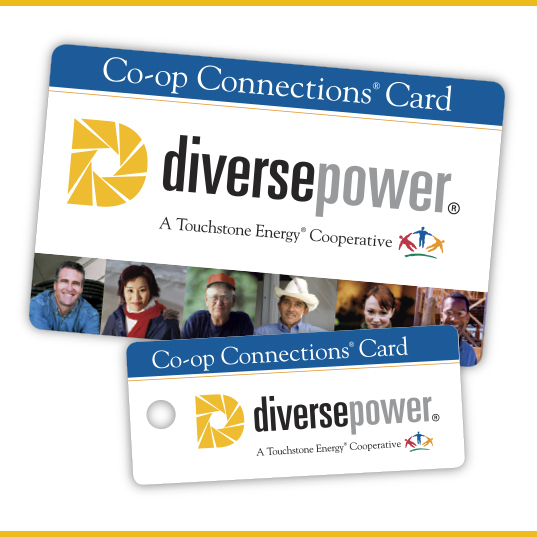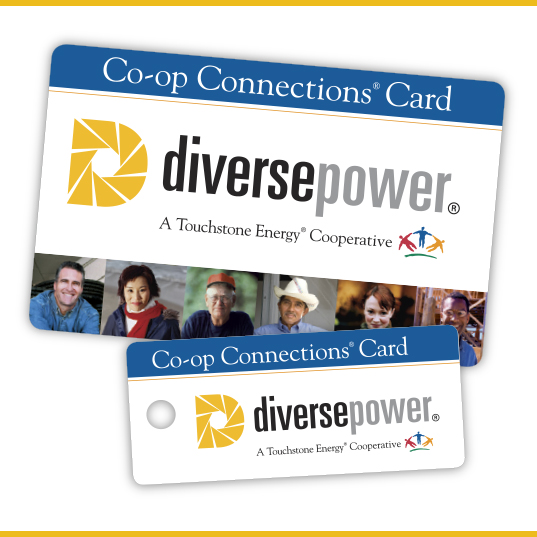 As a valued member of Diverse Power, you are receiving this free Co-op Connections card that includes discounts from over 140 local and national businesses. Use it at participating businesses on every day items and save! Businesses include restaurants, auto shops, hair salons, fitness centers, boutiques, and much more.
Discount Offers:
Search below to obtain details about online, national and local discounts offered by participating Touchstone Energy cooperatives across the country. Use the search engine to find discounts right at home – or anywhere you travel. The list of participating co-ops continues to grow, so check back periodically. Co-op Connections is just another benefit of being a Diverse Power member.

Benefits For Local Businesses:
This program gives participating businesses exposure to our 23,000 members and millions more served by our fellow Touchstone Energy cooperatives.
A list of participating businesses will be provided to all Diverse Power members. These businesses are also posted on the web at www.diversepower.com.
Co-op members are encouraged to shop at participating businesses through promotions in our newsletter, radio ads, newspaper ads, bill stuffers, etc.
The card features Diverse Power's important contact information and Web site.
Examples of discounts from local businesses:
Sears Optical – Columbus, GA
50% off a complete pair of eyeglasses (Frame and lens offer may not be combined with any other coupons, discounts, insurance plans. Valid prescription required).
Towne Fitness Club – LaGrange, GA
Free Enrollment ($50.00 Value)
Jim Bob's – LaGrange, GA
Free cookie with regular priced entrée.