New Homes
Touchstone Energy Home Program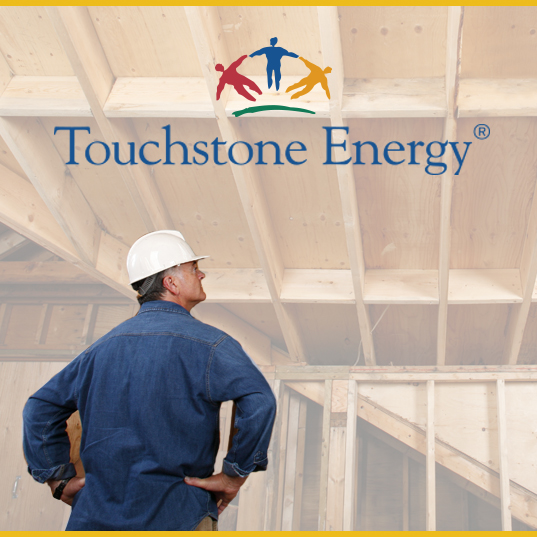 Touchstone Energy Checklists
A Touchstone Energy Home is designed to be energy efficient and economical, as well as comfortable. Your local Touchstone Energy Cooperative has developed the Touchstone Energy Home Program to help homeowners and builders in their communities.
Homeowners will enjoy their Touchstone Energy Home because it brings them:
Greater home comfort.
Reduced costs.
Stabilized energy bills.
Energy efficiency throughout the home.
Pride in home ownership.
Improved home value.
Environmental benefits.
Potential financial & tax incentives.
Flexibility for homeowners for their rebates.
Builders and developers love building Touchstone Energy Homes because:
Touchstone Energy Homes sell faster.
It helps homeowners save money.
Educated homeowners on energy efficiency.
Contributes to an environmentally friendly community.
Makes their homes unique.
Incorporates updated and accepted building standards.
Brings new home technologies in the forefront.
Provides potential financial & tax incentives.
Touchstone Energy Home Checklist
The Touchstone Energy Home standards are intended to meet or exceed any applicable existing local, state codes and Federal regulations. In any case, where a Federal, State, or local code or regulation exceeds the requirements herein, that code or regulation shall apply.
Thermal – 20 points
REQUIRED
Continuous Insulation >= R-13 for all exterior walls.
Insulate roof line w/Spray Foam
Infiltration Controls – 15 points
REQUIRED
Seal all penetrations in the exterior envelope.
Sill plates must be sealed with an appropriate sealant.
Doors, windows, and attic hatches installed in an air tight fashion.
Exterior finish walls must fit tight against the sill plate.
Properly installed faced insulation batts or unfaced batts with a complete polyethylene vapor barrier, or a polyurethane spray foam insulation is required.
Zero Clearance can lights. ICAT – direct insulated lights.
Crawl space shall be covered with polyethylene ground cover (6 – 10 mil) to prevent moisture migration into the house.
A blower door test is required for infiltration conducted by a certified Duct & Envelope Tightness verifier (DET). The result must be less than or equal to 6 air changes per hour at 50 Pascals (ACH50).
OPTIONAL ITEMS
Result less than or equal to 3 air changes per hour
Result less than or equal to 2 air changes per hour
Doors – 5 points
REQUIRED
All opaque exterior doors shall be weather – stripped on all sides and of solid construction. Metal doors with a urethane core, thermal break, and gasketed weather stripping are recommended.
All glass doors shall be double-glazed with a thermal break. (One entry door may be exempt).
Windows – 5 points
REQUIRED
Double-glazed, low E-glass with a SHGC (Solar Heat Gain Coefficient) <= .30
Ventilation – 5 points
REQUIRED
Minimum attic ventilation should be one square foot of net free area for each 150 square feet of attic area. The recommended method is a combination of continuous ridge and soffit vents. If using a spray polyurethane foam and insulating at the roof plane, no venting is required. Check with your local code office for conformity.
Bathroom exhaust, kitchen exhaust, and clothes dryers shall be vented to the outside, not to the attic or crawl space.
Crawl space ventilation shall be provided as required by local code.
Heat Pump – 20 points
REQUIRED
16.0 SEER (ARI rated) is the minimum efficiency allowed under this program. All heat pumps should be sized with a Manual J based load calculation.
Programmable thermostats with adaptive recovery
OPTIONAL ITEMS
>= 18.0 SEER
Ground source heat pump >= 17.0 EER
One system serving multiple zones w/ dampers
Duct Systems – 15 points
REQUIRED
Duct system shall be built to industry accepted procedures (Manual D).
Ducts must be sealed according to all state and local codes.
Ducts must pass PCT <= 5 cfm/100 sq ft, or rough-in test RIT <= 5 cfm/100
OPTIONAL ITEMS
Ducts in unconditioned attic with attic side radiant barrier
Ducts in conditioned space
<= 4 or RIT <= 4 cfm/100
6 PCT <= 3 or RIT <= 3 cfm/100
Water Heating – 10 points
REQUIRED
An Electric water heater with a lifetime warranty and at least 40 gallons.
OPTIONAL ITEMS
Electric Heat Pump water heater
Solar Water Heater
LED's – 5 points
REQUIRED
All installed lighting must be LED or better.
Electric Vehicle (EV) outlet – 5 points
Must install one dedicated outlet for new level II EV charger.
OPTIONAL ITEMS
additional dedicated outlet