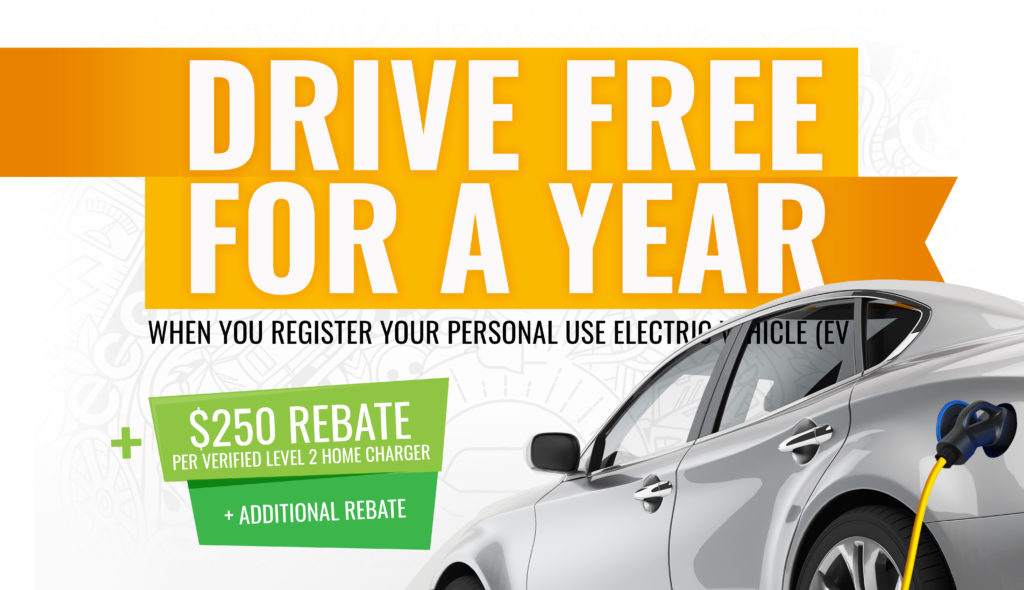 Drive Free for a Year on Diverse Power!
Any consumer-member with a personal use electric vehicle (EV) and residential Level II charger can drive for free for a year. Just register your EV here and receive a $26 monthly credit on your Diverse Power bill.
The purchase and installation of any residential Level II electric charger will also earn you a $250 rebate upon verification.
Still want more? Diverse Power will pay you a $50 rebate for each NEMA 14-50 or 12-30 outlet installed at your home intended for the use of a Level II charger.

Ready? First, download and complete our EV rebates form to get started.

MAIL Form and installation invoice (if applicable) to:
Diverse Power Electric Vehicle Charger Rebate | P.O. Box 160 | LaGrange, GA 30241
Or
FAX Form and installation invoice (if applicable) to: Diverse Power Electric Vehicle Charger Rebate Fax # (706) 845-2020

* Terms and conditions apply. See below
---
2021 Terms & Conditions for the Diverse Power Drive Free for a Year Residential Electric Vehicle Charger Rebate Programs
The Rebate Programs: Diverse Power is offering rebate programs to help Residential Customers cover some of the costs associated with installation of electric vehicle (EV) chargers. Diverse Power Customers who install a Level 2 (208/240v) charger may qualify for a rebate for each charger installed. The rebates are available for installations completed by December 31, 2021. A completed Electric Vehicle Charger Rebate Request Form along with a copy of the installation invoice must be submitted within sixty (60) days after the vehicle charger has been installed. Diverse Power reserves the right to cancel or modify these rebate programs at any time in its sole discretion.
The Rebates:
– Residential EV Charger Rebate $250 per new unit 2/1/2020 – 12/31/2021.
– Drive Free for a Year $26 utility bill credit per unit (personal use EV + Level II charger = 1 unit) 2/1/2020 – 12/31/2021.
– $50 rebate per each NEMA 14-50 or 12-30 outlet installed in home for intended use of a Level II charger, 2/1/2020 – 12/31/2021.
Charger Eligibility Restrictions:
1) Must be a Level 2 (208/240 volt) charger.
2) Must have a dedicated circuit.
3) Must be new (not used, refurbished, rented, etc.) and purchased by the customer. Chargers gifted or won as part of a raffle or giveaway are not included.
4) Rebate paid on each charger installed.
5) There are no manufacturer, make or model restrictions, so long as the above requirements are met.
6) All city, county, or state government, property owner or homeowner's association, rules, codes and regulations must be complied with during installation of the EV charger. All necessary permits must be obtained prior to installation. Level 2 charging occurs at a higher voltage rate than the Level 1 (120 volt) charger, and as a result, an inspection and permit are likely to be required by the city or county where the residence is located. Participating EV charger installers or other qualified independent electricians can identify what permitting and inspections may be required. Customers are not required to use a participating EV Charger Installer to be eligible for the Residential Electric Vehicle Charger Rebates.
Customer Eligibility Restrictions:
1) Must be a Diverse Power customer.
2) Eligible customers must be the property owner, or have the express permission of the property owner, to install the EV charger.
Residential Rebate Only:
1) Program open to all single-family residential customers
All electric vehicle chargers installed under these programs are subject to visual verification by Diverse Power representative. If your EV charger installation is selected for a field audit, you will be contacted by a Diverse Power representative to schedule an appointment. By signing and submitting the Rebate Request Form the customer agrees to provide a Diverse Power representative reasonable access to the installation site during normal business hours. If the field audit discovers that the EV charger has not been installed, the rebate will not be paid and the customer may be billed for repayment of the rebate to Diverse Power if the rebate has already been issued.
Diverse Power's liability and responsibility in connection with the Electric Vehicle Charger Rebate Programs shall be strictly limited to the making of certain rebate payments for eligible equipment, and Diverse Power does not make, will not provide and specifically disclaims any representations, warranties, covenants or guaranties whatsoever, express or implied, in connection with the electric charger or the Program itself, including, without limitation, those regarding merchantability or fitness. Warranties with respect to the electric vehicle charger are strictly manufacturer's warranties, and customers participating in the program shall not make, nor have the right to make, any claims against Diverse Power relating to any such warranty. Diverse Power shall in no way be liable or responsible for any equipment installed by, or for any act or omission of, any other entity or individual, including, without limitation, equipment manufacturer, any electrician, technician, or other service provider.
Customers participating in the Electric Vehicle Charger Rebate Programs may be contacted to participate in Diverse Power's data collection on EV charging practices in order to better understand EV drivers' charging practices, improve EV services, and encourage greater EV deployment. For example, Diverse Power is interested in collecting information on how many chargers are installed at workplaces and the number and frequency of EV drivers using workplace chargers. Participation is voluntary and does not affect rebate eligibility. Additional information available on Diverse Power's website.
Rebate Submissions:
Copies of the completed Residential Electric Vehicle Charger Rebate Request Forms and invoice installations can be submitted to Diverse Power in one of the following ways: (please keep the original for your records)

• MAIL Form and Invoice to:
Diverse Power Electric Vehicle Charger Rebate | P.O. Box 160 | LaGrange, GA 30241
Or
• FAX Form and Invoice to: Diverse Power Electric Vehicle Charger Rebate Fax # (706) 845-2020