5th Annual Diverse Power Grand Prix GreenpowerUSA Race
News From Diverse Power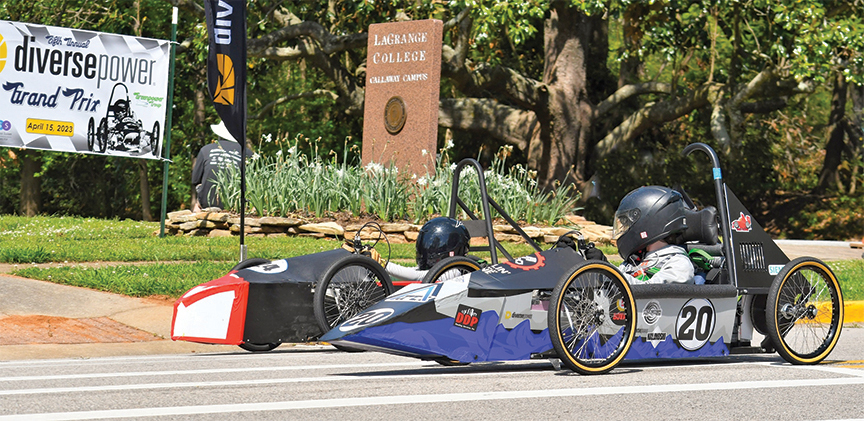 ---
Nazareth Area Middle School 20 and Inspire Academy 224 are shown above side by side in the second race of the day, the middle school F24 Intermediate. Photo by BeeTV Sports Director Kevin Eckleberry.
While the Greenpower Electric Car Challenge was founded in the United Kingdom, Huntsville, Al. brought the program to the U.S. as a 501(c)(3) not for profit organization in 2014. Since then, the program has been spreading through schools across the country.
As the GreenpowerUSA STEM program continues to grow, so does the popularity of the annual grand prix. This year's event was no exception.
Most schools participating in this year's race traveled from neighboring states. However, one school traveled more than 800 miles to compete in the Diverse Power 5th annual race.
This year, Nazareth Area Middle School from Nazareth, Pa. made the journey to Ga. with two teams and two cars.
"We get one race a year that is out of state" said Nazareth Area Middle School team coach Lee Bauder.
Bauder continued to describe their trip in detail as he explains they take full advantage of having the youth be a captive audience to colleges along their route to each out of state race.
"We make college visits over the entire trip, visiting large, medium and small colleges along the way to make it an educational experience verses just attending a race" continued Bauder.
By visiting multiple colleges of various sizes, coaches Bob Bauder, Lee Bauder and Scott Mang hope to show the middle schoolers that their colleges options are vast and not limited to the known colleges or universities in their home state.
In total, 31 teams competed in person at this year's race and five teams competed remotely to total 386 students participating.
Teams participating remotely do not physically place in the race, however remote participation helps the competing school obtain the season's four required race events needed to qualify to compete for the National Championship at Talladega Superspeedway on May 6, 2023. Teams competing remotely must still fulfill the presentation component for the race and are allowed to submit lap data for a 90 minute session at their location.
This year, local area schools placed in the top three in every race except for the Advanced Custom division race.