Callaway High grad wins prestigious Walter Harrison Scholarship
News From Diverse Power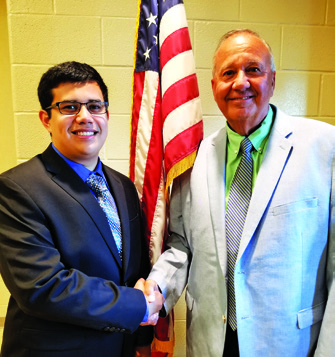 ---
James Wood, a graduate of Callaway High School, in LaGrange, has won the prestigious Walter Harrison Scholarship. It marks the fifth time in recent years a Diverse Power area student has won the $1,000 scholarship sponsored by the state's electric cooperatives.
The son of Suzyanti Wood, of LaGrange, the recent graduate was the valedictorian of his class and also won a $3,000 Diverse Power Foundation scholarship.
"I'm extremely grateful to receive both of these scholarships," says Wood. "It's very encouraging that there are organizations that value giving support, financially and otherwise, to students like me who have a vision and are willing and able to put it into action."
Wood plans to major in computer science at the Georgia Institute of Technology and later pursue a master's degree in business administration and a doctorate in computer science.
He says his goal is to work in artificial intelligence as a researcher at a prominent university, such as Georgia Tech, with hopes of enabling future breakthroughs in medicine, education and energy.
"As for my future, I have one vision: to leave a legacy that honors not only myself, but also those who have cared for and influenced me throughout my life," says Wood. "My ultimate goal is to work in the field of computer science in order to help research breakthroughs in technology that will enable humanity to assist those in need."
His school's drum major, Wood was a member of the National Honor Society, Key Club, First Baptist Church Youth Choir, Troup County Youth Leadership, marching band and honor band. He served as Georgia Secretary of State student ambassador and Hugh O'Brian Youth State Leadership representative. He graduated as a Georgia AP Scholar with Honors and worked an internship at the Troup County Office of Solicitor General. He has volunteered in his community through activities for women in need, underprivileged children and the homeless.
Presented on the basis of scholarship, extracurricular activities, community service and financial need, the scholarship can be used at any accredited two- or four-year college, university or vocational-technical school in Georgia. The award is named for Harrison, a pioneer in the rural electricity movement.