Check out Co-op Connections
News From Diverse Power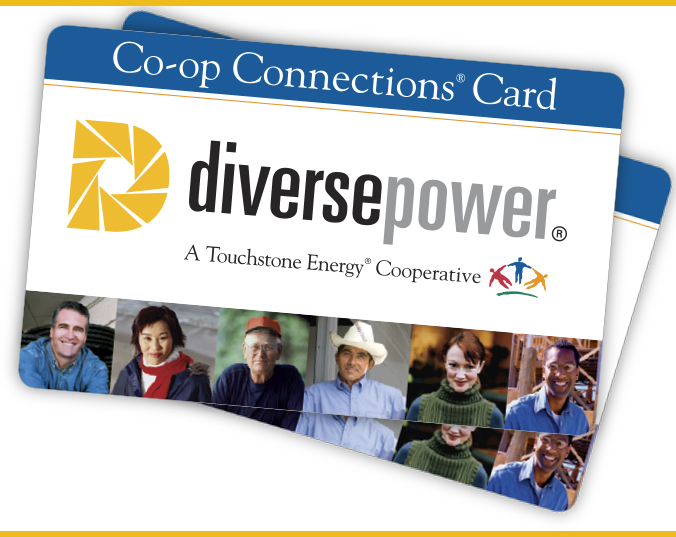 ---
If it's been awhile since you checked out our Co-op Connections Card® deals, take a moment soon to discover the savings our area businesses offer you for their products and services.
The Co-op Connections Card program is offered through Touchstone Energy® Cooperatives, a national alliance of almost 750 electric co-ops, including Diverse Power Incorporated.
Designed to help electric cooperative members save money while helping businesses in our service territory thrive, the Co-op Connections Card program connects members with savings at not only local businesses but throughout the nation. The program helps you save money on automotive needs, clothing and accessories, dining, travel and more at many national chains, like Home Depot and Macy's, whether you're at home in our Diverse Power service area or shopping anywhere in the nation where the card is accepted.
The card offers discounts on prescription drugs at more than 60,000 locations, including national chains like CVS, Walgreens and Wal-Mart. Cardholders even receive discounts at participating dental, vision and chiropractic offices.
Locally, businesses like those featured on page 4 offer deals and incentives when you present your Co-op Connections Card. Along with providing Diverse Power members with great deals on products and services, the program gives participating businesses exposure to our 34,000 electric cooperative members through articles in this newsletter and on our website.
Online, the Co-op Connections' Cash Back Mall gives our members an opportunity to earn cash back on purchases from more than 4,000 leading online merchants, including Bass Pro Shops and Target. In addition to offering cash back, the Cash Back Mall features 20,000 discounts every day.
When you sign on with Diverse Power as your electricity provider, you'll receive a free Co-op Connections card, two key fobs, and a list of participating local and national businesses. If you lose your card or key fobs, please call us at 706-845-2000, and we'll be happy to replace them.
We hope you'll take advantage of our Co-op Connections Card program to find good deals at great businesses in our service area.