Chinese Stars
News From Diverse Power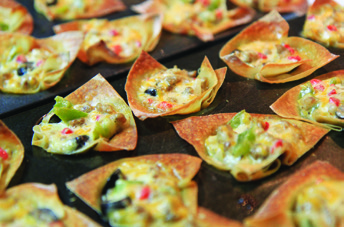 ---
1 pound regular or mild sausage
1 bell pepper, chopped
1 small onion, chopped
1 (4-ounce) jar diced pimentos, drained
1 (2.25-ounce) canned sliced ripe olives, drained
1 (16-ounce) bottle ranch dressing
2 to 3 cups Mexican cheese, to taste
1 package (48 wraps) wonton wraps
Brown sausage; when almost done browning, add peppers and onion. When sausage is cooked and vegetables are sauteed, drain liquids and move mixture to a mixing bowl. Add pimentos, olives and ranch dressing; stir. Add cheese and stir until ingredients are moistened.
To make 48 stars, spray two 24-cup miniature muffin pans with cooking spray. Press one wonton wrap into each muffin cup. Bake wonton wraps at 350 degrees for about 3 minutes to brown lightly. Remove pans from oven; fill each wonton cup with a heaping teaspoon of sausage mixture. Return to oven and bake at 350 degrees for 5 to 7 minutes or until cheese has melted.
Variation: For Pizza Stars, fill wonton cups with mixture of diced pepperoni, mozzarella or provolone cheese, Mexican cheese, pizza sauce, black olives, mushroom sauce and/or other desired pizza ingredients. For Breakfast Stars, fill each wonton cup with a mixture of cooked and chopped bacon, scrambled eggs, grits, Mexican cheese and a dot of butter.
Recipe By: Dee Hicks, LaGrange, Ga.