Community Connections: Diverse Power Employee Honored for Saving Life
News From Diverse Power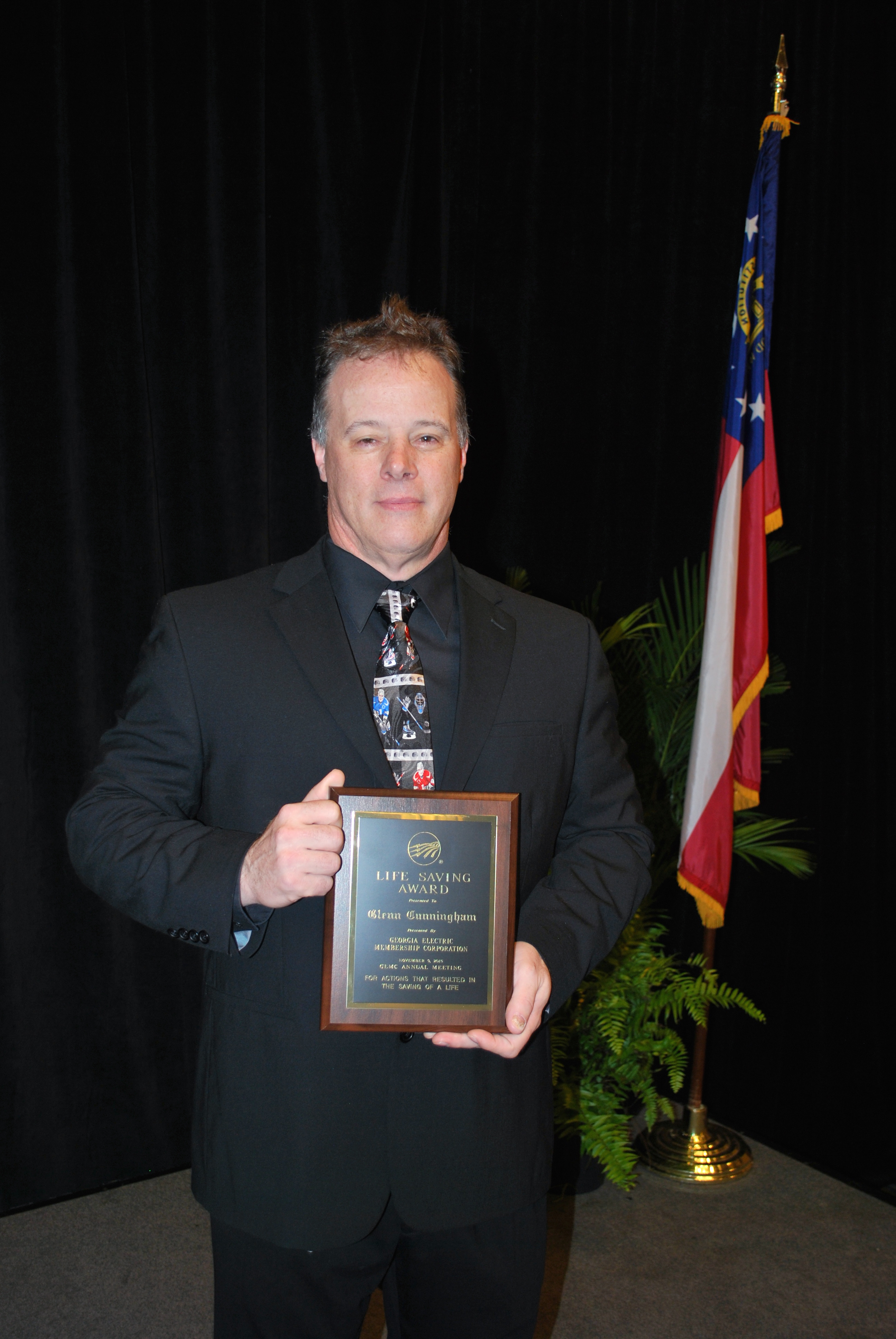 ---
Diverse Power Business Continuity Coordinator Glenn Cunningham recently was recognized for saving a coworker who was choking in her office at the electric cooperative's headquarters in LaGrange.
Glenn Cunningham received a Life Saving Award from Georgia Electric Membership Corp. (Georgia EMC) during the state association's annual meeting on Nov. 9 in Savannah.
On August 12, Cunningham heard a coworker choking in the office next to his and ran to the office. As safety coordinator for the electric cooperative, Cunningham knew right away she needed to receive the Heimlich maneuver.
"I put my arms around her and gave some quick jerks, then asked her if she could breathe," says Cunningham. "She grabbed my hand."
Because the employee is much smaller than Cunningham, he was concerned about injuring her, especially her ribs.
"But her face was turning purple, and I realized if I didn't apply the Heimlich as hard as I could, I might not save her," he recalls. "I was trained in the maneuver but didn't realize how violent it needs to be in cases where the victim has no air to exhale. I ended up lifting her off the floor, but she coughed up the food."
Cunningham says receiving the award at Georgia EMC's biggest event of the year was an honor.
"I'm so glad I knew exactly what I needed to do," he says, adding, "I'm originally from Boston, so hearing a Southern belle thank me for saving her life was quite an experience."
The Life Saving Award recognizes EMC employees whose quick thinking and actions are instrumental in safeguarding others from dangerous or potentially deadly situations.
Georgia EMC is the statewide trade association representing the state's 41 electric cooperatives, Oglethorpe Power Corp., Georgia Transmission Corp. and Georgia System Operations Corp. Through this statewide network, the EMCs provide electricity and related services to 4.4 million people, nearly half of Georgia's population, across 73 percent of the state's land area.
Photo caption: Glenn Cunningham received a Life Saving Award in honor of saving a choking coworker by applying the Heimlich maneuver last summer. (Beth McMillian photo)