Diverse Power Breaks Ground for New District Office
News From Diverse Power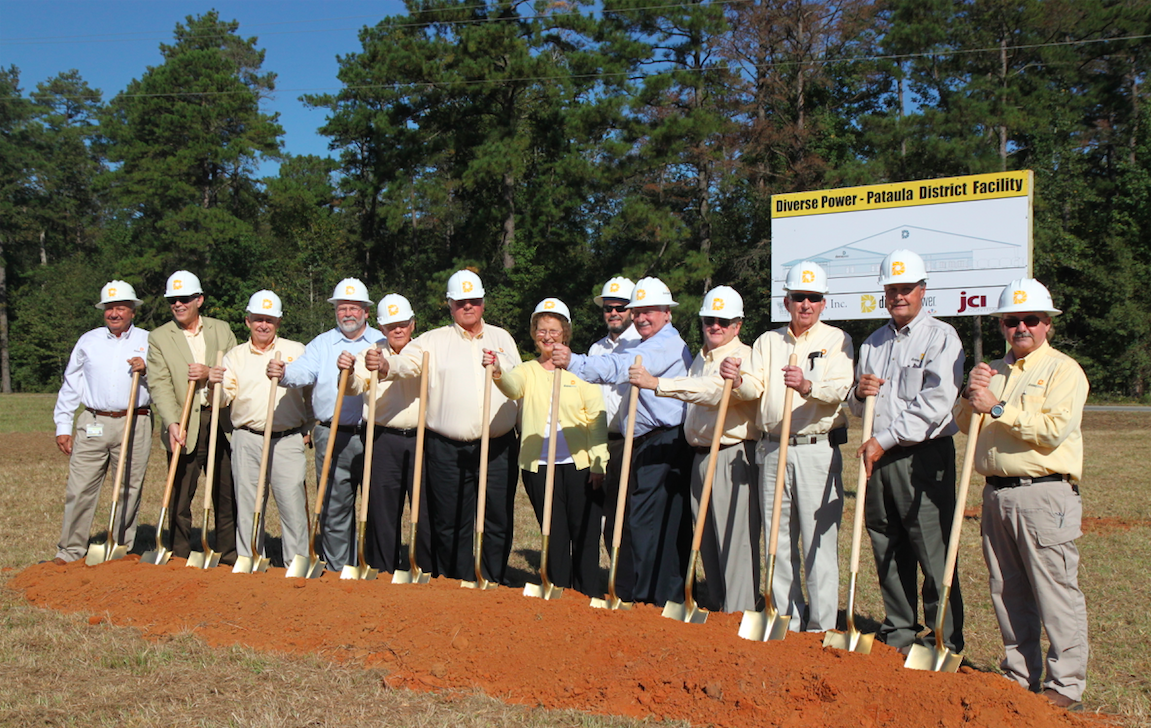 ---
Diverse Power Incorporated held groundbreaking services on October 15 at the site of their future new Pataula District office at the corner of US Highway 82 and District Line Road in Cuthbert.
The new complex will cover about 10 acres of a 23-acre parcel at Randolph County Industrial Park and feature a 20,000-square-foot facility with offices and board room, warehouse and covered parking shed. Also onsite will be a garage with shop, wash bay and fuel island plus a pole yard and transformer pad.
The architect of the $4.5 million project is Millard Inc. of Roswell with JCI Contractors of Moultrie in charge of construction, which is expected to be completed by fall of 2016.
"We are excited about this project and look forward to providing our Pataula District members with even better service with an updated facility," said Diverse Power President/CEO Wayne Livingston.
"Things are changing in southwest Georgia," said State Representative Gerald Greene at the groundbreaking ceremony. "On behalf of the governor and lieutenant governor, we welcome you and this new building and thank you for what you're doing in southwest Georgia."
The new district office is another in a long list of initiatives Diverse Power has undertaken to show its commitment to Pataula District members since acquiring the co-op office from Cobb EMC on January 1, 2014. Since then, Diverse Power has upgraded power lines, added or rebuilt five substations and is in the process of building a third radio tower in the district, at Georgetown, to further enhance radio communications systems in the area. By acquiring the new district two years ago, Diverse Power, by spreading costs, is in a better position to keep rates stable for all its members.
Photo Caption (Photo by Jackie Kennedy): Preparing to break ground at the site of the new Pataula District office in Cuthbert are Diverse Power representatives, from left, President/CEO Wayne Livingston, Legal Counsel Ray McKenzie, Director Charles Knight, Senior Vice President/CFO Wade Hall, Directors Harrell Landreth, Larry Keith and Cheryl Meadows, Senior Vice President/CTO Randy Shepard, Directors Richard Williams, Bill Couch, Roy Tollerson and Jimmy Bailey, and Senior Vice President/COO Randy Pruett.