German Chocolate Pie
News From Diverse Power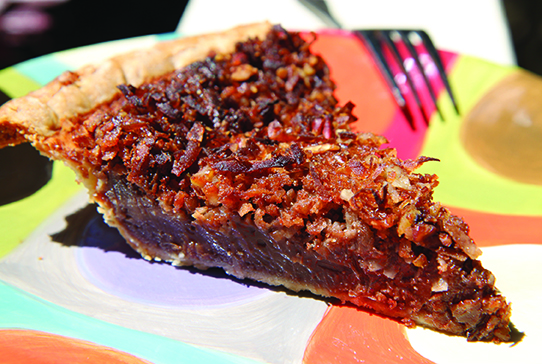 ---
– 1 (4-ounce) package Baker's German Sweet Chocolate
– 1/4 cup butter
– 1 2/3 cups evaporated milk
– 1 1/2 cups granulated sugar
– 2 tablespoons cornstarch
– 1/8 teaspoon salt
– 2 eggs
– 1 teaspoon vanilla extract
– 2 unbaked deep-dish pie shells
– 1 1/3 cups coconut
– 1/2 cup chopped pecans
Melt chocolate with butter over low heat, stirring until blended. Remove from heat; gradually blend in evaporated milk.
Mix sugar, cornstarch and salt thoroughly. Beat in eggs and vanilla. Gradually blend in chocolate mixture. Pour into pie shells.
Combine coconut and nuts and sprinkle over filling. Bake at 375 degrees for 45 minutes. Filling will be soft, but will set while cooling. Cool for at least 4 hours before cutting.