Highway 27 Purple Heart signs unveiled
News From Diverse Power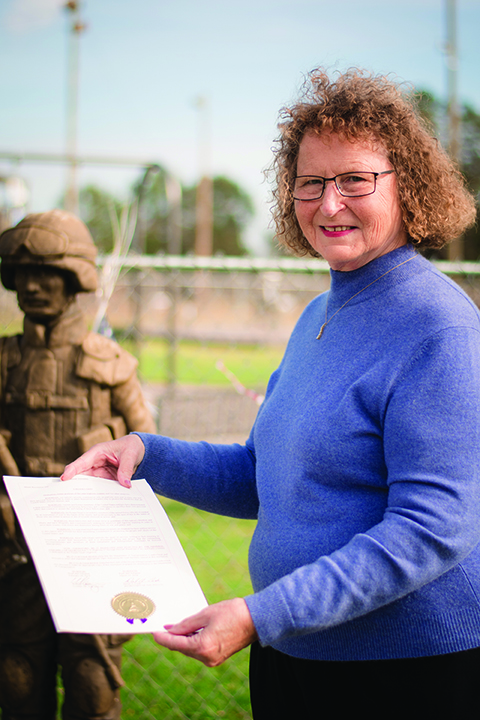 ---
After many months of planning and preparation, the dedication and unveiling of Purple Heart signs finally came to fruition on Sunday, Nov. 11, 2018. A well-suited day for the ceremony, the dedication was held on Veteran's Day at the Weston C. Lee Veterans Memorial Park in Bluffton, at 2:00 p.m.
The local veterans park was named after Weston C. Lee, a native of Bluffton. At the age of 25, 1st Lt. Lee died April 29, 2017, while serving his first deployment to Iraq and was posthumously awarded the Purple Heart medal.
Dozens were in attendance for this special day in Bluffton as the signs were dedicated and added to the National Purple Heart Trail. Other counties along Highway 27 receiving signs as part of this dedication included Stewart, Randolph, Clay and Early counties.
2018 Georgia Teacher of the Year, Lt. Col. John Tibbetts, delivered a heartfelt speech of appreciation and history of the Purple Heart. Lt. Col. Tibbetts served in Iraq as well as the Pentagon during 9/11.
The delivery of the proclamation was executed by District 151 State Rep. Gerald Greene.
The proclamation first had to move through the House and Senate, before receiving final approval by Gov. Nathan Deal.
"This is for those who've served," says Greene.
Daughters of the American Revolution (DAR) member and organizer of the dedication Beverly Everritt states, "It is our greatest desire as members of the Daughters of the American Revolution and as individuals to express our loyalty, respect, gratitude and love to those service members and their families for their sacrifice for our country and for our freedom, many of whom have given the ultimate sacrifice."
A local DAR chapter held a bake sale which raised more than $1,500 for this incredible dedication. Other major donors included the Benjamin Hawkins Chapter as well as DAR Regent Cheryl Meadows.
The Rev. Paul Buckhiester of Shellman United Methodist Church opened and closed the ceremony.